Our new IST Graduate Programme is an insurance game-changer!
Say hello to the latest innovation in our GIFS Universe: The IST Graduate Programme 2021. It's a game-changer for the Short-Term Insurance (STI) space!
As our world slides deeper into a digital reality, there's a growing demand for IT specialists in the STI sector. However, most IT fundis do not fully understand how the Short-Term Insurance industry works and what its processes are, which means they can't effectively apply their expertise to enable STI organisations to thrive in a digital-first reality.
This is where GIFS innovated a solution!
We designed the IST Graduate Programme 2021 for young, IT graduates who need to quickly immerse themselves in the Short-Term Insurance space. We've roped in experts from various STI specialist areas so the IT pros can learn the ins and outs of the business first-hand and can quickly find digital solutions to the industry's unique challenges. We've also placed a strong focus on developing EQ skills to promote work-readiness, and we can customize aspects of the programme for each organisation.
The IST Graduate Programme 2021 is the first-of-its-kind in South Africa, and we are excited to team up with the Insurance Institute of Gauteng (IIG) for the rollout. The programme begins on 28 May 2021.
More than a knowledge-exchange, specialist-guided and mentored programme, the IST Graduate Programme 2021 covers a variety of wellness activities and workshops to navigate learners through levels of career articulation.
We focus on the broader perspective such as aligning participants to their greater purpose in life. We've embedded a Wellness Programme that speaks to the importance of a balanced individual (in terms of mind, health, heart, and soul) as well-rounded team players significantly impact the success of an organisation. We introduce participants to outdoor activities to enhance Mindfulness for improved emotional resilience and better work-life balance, teach them emotional fitness and personal mastery, and advise them on how to build healthy relationships with their finances.
We connect participants to the Corporate Athlete mindset by teaching skills, strategies, and practices of star corporate players and how these can be applied to the insurance industry.
We groom STI leaders through Excellence in Insurance sessions that include discussions on how to flourish in high-stress environment, how to practically deal with change and teach them interpersonal skills so they can communicate effectively – key behaviours for peak performance! The Leaders in Insurance and Corporate Athletes module prepares participants to see the future version of themselves and plots the path that leads to this success.
In a nutshell
The IST Graduate Programme 2021 is a customized, EQ-driven post-NQF 7 programme for IST graduates within the Short-Term Insurance (STI) industry.
Identifies challenges exclusive to the STI space so IT graduates can quickly and impactfully apply their tech expertise to address these pain points.
Fast-tracks the insurance industry's immersion into an agile 4IR reality enabling smart responses to the fast-paced, tech-driven environments e.g. remote working, social distancing etc.
Develops Emotional Intelligence (EQ) skills-set to supplement IST graduates' IQ competencies.
Over 25 sessions split between two semesters, spanning May – December 21.
Consider it an STI bootcamp for young IT experts that accelerates their tech problem-solving to address industry pain points. However, from a broader perspective, the IST Graduate Programme 2021 grooms agile leaders within Short-Term Insurance who are resilient and impactful, and who make a positive contribution to their respective communities.
Why sign up?
Coaches and grooms work-ready IST graduates to impact the STI.
Provides a MACRO perspective (global & local view) so young IT specialists are up to speed with the unique operations and challenges within SA's insurance space.
Aligns them to the organisation's mission, vision, and culture, and its WHY and HOW.
Accelerates workplace acclimatization by up to 18-months, fast-tracking outputs.
Creates "scout mindsets" to encourage quick adaptation to changing environments.
Develops critical emotional intelligence skills-sets.
Produces corporate athletes by introducing graduates to high-flying experts within each specialist area of STI.
Creates a sustainable workforce and platforms for innovation, allowing the industry to scale through technology.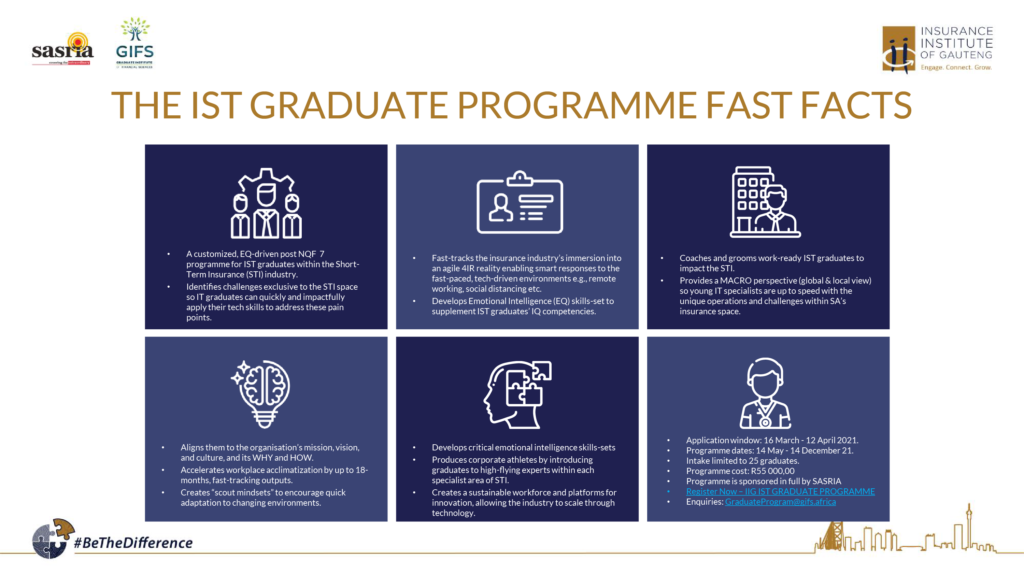 Click here for the admission requirements or to apply.
Applications close on 28 April 2021.
---
24 March 2021