WATCH: A spook-tacular Halloween performance from JHB GIFSters!
It was a dark and stormy night when a hair-raising screech pierced the air, sending shivers of terror across the land….
Actually, it was a sweltering you-could-fry-an-egg-on-the-pavement kind of day in Joburg and the only shivers rippling through our office were those of excitement!
Hot on the heels of our Heritage Day Jerusalema Dance-off, the green team squared up for another inter-city contest, this time for a Halloween Thriller Challenge.
Both teams delivered a fang-tastic, scream-worthy performance but the Joburg squad sealed the deal with a vampire kiss – and a boo-tifully amazing, spine-chilling production!
Congrats guys…er, sorry… congrats ghouls and ghosts! You guys were spook-tacular!
But not everything that goes bump in the night is dark and spooky. Some of them are hauntingly boo-tiful, in a wow-but-creepy kind of way!
Congrats to GIFSters – Tamera Gobadan, Christina Jenkins and Zinzi Mnyabiso – who cast a spell on the judges by channelling their inner zombies. The macabre trio won the GIFS Halloween costume competition! Here's why….
Tamera "Annabelle" Gobadan
Christina "Zombie" Jenkins
Zinzi "Cruella" Mnyabiso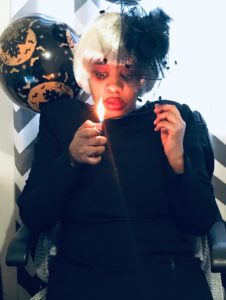 ---
31 October 2020