The Imbokodo Women in Leadership Training Programme
In honour of Women's Month and in keeping with our vision to mobilise the power of education to create a better Africa for others to inherit, the Graduate Institute of Financial Sciences (GIFS) is delighted to announce an education partnership with Khwela Womxn. The Imbokodo Women in Leadership Training Programme will nurture socio-economic skills at a grassroots level by empowering more than 100 women with employable skills.
Over the next 12-months, GIFS will roll out an NQF 5 Generic Management qualification to 120 women across the country between the ages of 18 and 35, enabling them with skills and competencies to successfully perform in general management, operations, project management and organisational leadership roles.
Khwela Womxn has selected the participants for the Imbokodo Women in Leadership Training  Programme based on strict criteria that included a passion for women's empowerment, leadership, and personal development.
The Programme is an extensive, blended learning journey that aims to transform the young women with sought-after skills needed to manage junior managers within a team. The programme has a strong focus on showing leadership in the management of people and will enable the participants to monitor and measure the performance of junior managers, lead and manage a team, and enhance the development of teams and team members.
"Women have a critical role to play in economic sustainability, poverty alleviation and sustainable development," says Dr Kershen Pillay, the Chief Executive Officer of the Graduate Institute of Financial Sciences (GIFS). "From an economic perspective, empowerment through education not only increases employability prospects for young women, but entire communities stand to benefit from education enablement. From a social perspective, research has shown that economic independence of women has been linked to a decline in poverty and exploitation. When we educate and empower Africa's women, we are essentially paving the way for brighter, more promising tomorrows."
"We believe womxn have the power to change communities, experiential learning, and the power of sisterhood remains the key to our purpose. Through the Imbokodo Women in Leadership Programme, outstanding South African womxn are equipped with essential skills that are crucial to thriving in our current economic climate," says Asanda Daraza, Co-founder at Khwela Womxn. "Through the Imbokodo Womxn in Leadership Programme, South African womxn are invited on a journey of leadership and personal transformation. In the words of Melinda Gates 'If you want to lift up humanity, empower women. It is the most comprehensive, pervasive, high-leverage investment you can make in human beings!' Wathinta Abafazi, Wathinta Imbokodo!"
Participants who successfully complete the Imbokodo Women in Leadership Training Programme will be able to progress to other national management diplomas on an NQF Level 6 as well as national first degrees in management on an NQF Level 7.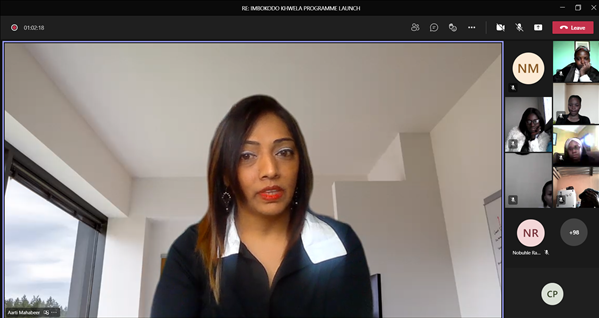 ---
20 August 2021